Cinzia Campolese, Marguerite Anthonioz, Régis Mandrillon, Erminio Alekos Serpente
Le lieu
Ancienne maison de l'éclusier - Canal de l'Ourq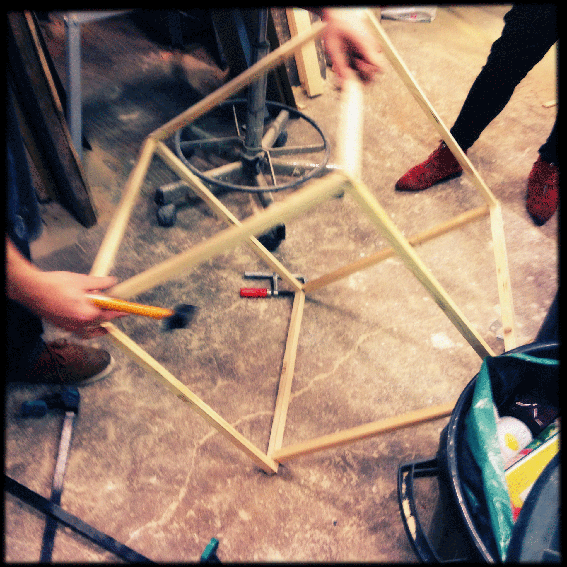 Soirée d'ouverture
15.12.12
Le lieu
Ancienne maison de l'éclusier - Canal de l'Ourq
Happening
Scénographie
KSAT CAMP#1
décembre 2012
Canal de l'Ourq - Paris
Le 15 décembre 2012 a eu lieu le premier KSAT CAMP du cycle des secrets : Les murs murmurent // Speaking walls.
L'événement s'est déroulé dans l'ancienne maison de l'éclusier du Canal de l'Ourq où plusieurs artistes ont présentés leur travail. Une danseuse guidait les visiteurs à travers les différents espaces.​
La scénographie a été pensé comme un fil conducteur qui guide le visiteur entre les différentes installations. L'espace est modifié, entre réalité et rêve. La perception des choses et de l'espace est altérée, suggérée par un jeu de filtre et de lumière.
Matériaux utilisés pour la scénorgraphie: bâche translucide + scotch orange / cubes lumineux (tasseaux de bois+bâche+scotch orange)

//

The first cycle of secrets KSAT CAMP // Speaking walls, took place on 15th December, 2012, in the oldest lock-keeper's house, in front of Ourq Canal, in Paris.
During the event some artists presented their works, and a dancer guided all visitors through the different areas.
The set design was conceive like a common thread that lead the visitors through all the installations. The space was modified, between dreams and reality; and the perception of things and the surrounding space was distorted, due to a work of filters and lights.
Materials used: clear plastic sheet + scotch orange tape / lighting cubes (wood planks + plastic film + scotch orange tape)

Merci à // Thanks to Martina et Yasmine - KSAT